A Last Time UW Beat UO Fact Blast for All the World to Rejoice
As you all know, or should know, it's Husky Hate Week here at SFAS. And boy do we love to hate those damn Huskies. If (when) the Ducks beat U-Dub[1] on Saturday, it will mark the glorious ninth straight time that the Seattleites have fallen to our mighty men of Oregon. And if (when) Chip Kelly shakes Steve Sarkisian's hand following what I hope to be a Husky drubbing of goliath-sized proportions, it will ensure that the storied tradition of LastTimeUWBeatUO hash tags lasts another year. Because we love Hate Week so much, we've compiled a veritable Shiva blast of LastTimeUWBeatUO facts for you to rub in your Husky loving friends' faces.[2] Add your best LastTimeUWBeatUO fact in the comments section.
LastTimeUWBeatUO, the Cleveland Browns quarterback was both Kelly Holcomb and Tim Couch, who both started eight games in 2003. Since then, the Browns have started Jeff Garcia, Luke McCown, Trent Dilfer, Charlie Frye, Derek Anderson, Brady Quinn, Ken Dorsey, Bruce Gradkowski, Jake Delhomme, Seneca Wallace, Colt McCoy, and finally Brandon Weeden. Twelve QB's since then! There must be some causation between calling yourself the Dawgs and being terrible.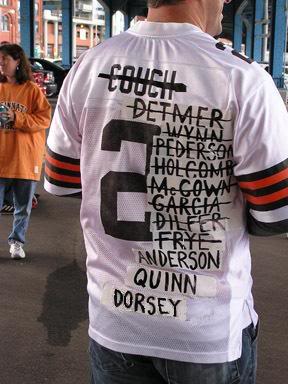 LastTimeUWBeatUO, we had a white president.
LastTimeUWBeatUO, SARS was an epidemic, proving to everyone who hates birds because they're flying, disease-carrying dinosaurs that they are right.
LastTimeUWBeatUO, I had just worn an awesome Batman costume for Halloween. I did not, however, have the foresight to talk like I was gargling hot asphalt.
LastTimeUWBeatUO, Tyrone Willingham was the head coach at Notre Dame, leading the Irish to a 5-7 record. Still happy you poached him from the Golden Domers, Huskies? If I recall correctly (and I do because I looked it up on the interwebs,) he led your beloved to an 11-37 record including the best Washington team to ever grace this Earth, the 0-12 2008 squad. Tyrone Willingham, the highest paid troll ever.
LastTimeUWBeatUO, Dane Cook was popular. His first comedy album Harmful If Swallowed went double platinum. Amazing for two reasons: A) people actually still bought cd's and B) they chose to buy Dane Cook…like I said, amazing.
LastTimeUWBeatUO, Beyoncé and Jay-Z released "03' Bonnie and Clyde" and "Crazy in Love," unbeknownst to the public setting the stage for the birth of the child that would save us all from the coming apocalypse, Blue Ivy Carter.
LastTimeUWBeatUO, RGIII had just become a teenager earlier that year. Just a few years later he'd be dropping 67 on the Huskies in the Alamo Bowl.
LastTimeUWBeatUO, Kanye West hadn't even dropped a full studio album yet. AND IN THAT TIME SPAN HE'S ASCENDED TO GOD STATUS WHAT HAVE YOU DONE WASHINGTON??!!!???!?
LastTimeUWBeatUO, the Baconator had not yet been invented. A dark, dark time in human history, indeed.
LastTimeUWBeatUO, we were still using the third generation Apple iPod. There have been 21 models of iPods released since then. That doesn't even include the invention of the iPhone.
LastTimeUWBeatUO, video game graphics looked like this. Since then they've improved just a little.
LastTimeUWBeatUO, Pluto was still a planet.
LastTimeUWBeatUO, the classic TV series The Simple Life with Nicole Ritchie and Paris Hilton was broadcasting its first series.
LastTimeUWBeatUO, Madonna and Britney Spears made out at the VMA's. If that happened now it'd just be gross.
LastTimeUWBeatUO, Priest Holmes was a near-unanimous 1st draft pick in fantasy football. Holmes went on to break Marshall Faulk's NFL record for total touchdowns in a season in 2003 with 27.
LastTimeUWBeatUO, Massachusetts became the first state to offer legal marriage to same-sex couples.
LastTimeUWBeatUO, no one had ever heard of a facebook. Mark Zuckerberg launched "Thefacebook" on February 4, 2004.
LastTimeUWBeatUO, Rick Neuheisel was an assistant coach at Rainer Beach High School because of NCAA infractions.
LastTimeUWBeatUO, 2 Chainz was still Tity Boi…never should've given into the man, 2 Chainz. Let that be a lesson to you.
LastTimeUWBeatUO, Roboduck had just been introduced to Oregon fans.
LastTimeUWBeatUO, Charles Tjessem won the Bocuse d'Or. You don't know what that is, Husky fans? Maybe you should let a little culture into your life.
---
[1] Spelling it out like that makes it apparent just how "early 2000's Swishahouse rap" that stupid nickname is.
[2] Because we all know we hate the team, not necessarily the person.